Who should attend this course?

Any woman who wants to defend herself and her loved ones with a handgun. There are no prerequisites for this course, handgun ownership is not required.
Course Description
Basic Women's Handgun and Self-Defense Fundamentals is an introductory class. If you are brand new to firearms, this course is for you.
Everything you need for the course is available for rent or purchase at Davenport Guns, but you are encouraged to bring your own serviceable and safe firearms and gear if you have them.
Participants of this course will receive a free copy of Women's Handgun and Self-defense Fundamentals by Beth Alcazar (a $30 value)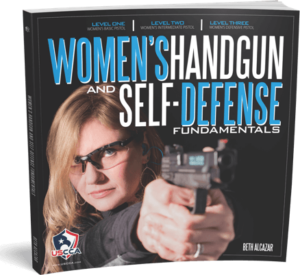 What To Bring
Handgun (Handguns are rented at the store if you do not have one)

100 rounds of ammunition

Eye and Ear Protection

Safe Range Attire (closed-toed shoes, crew-neck shirts, a ball cap or visor to deflect brass away from the eyes and face)
Lesson Topics
Lesson 1 – Guns and Gun Safety
Lesson 2 – Fundamentals of Handgun Shooting
Lesson 3 – Safe Gun Handling and Gun Manipulation Practical Exercises

Lesson 4 – Live-Fire Shooting Drills
PUBLIC CLASS
Private class can be arranged for groups of 5 or more.