Course Description: 
This 3 -hour course meets all the firearm safety training requirements of the Illinois Code Chapter 430 Section 66/75 Firearm Concealed Carry Act. Topics of focus include intensive lessons on the legal requirements and restrictions associated with carrying a concealed firearm in the State of Illinois. This is NOT an NRA-approved course; however, it is taught by NRA-certified instructors. The course curriculum and instructors are certified by the Illinois State Police. Upon successful completion of this course, students will be issued a course completion certificate, which will be used as the proof of training for the IL CCFL renewal application.
Required Material, Supplies and Equipment:
Handgun – Students are encouraged to supply they're own self-defense handgun for the course. All privately-owned handguns must be modern, clean, lubricated and serviceable in all respects. Handguns are available for rent from the gun shop ($10.00/hour);
Cartridges (50 minimum) of the correct ammunition for the handgun to be used in the course (caliber and pressure). Students are encouraged to supply their own ammunition for the course. Ammunition is available for purchase in the gun shop. Those renting a handgun from Davenport Guns must purchase ammunition from Davenport Guns;
Eye and Ear Protection (1 set) – Students are encouraged to supply they're own shooting glasses and hearing protection. Shooting glasses and ear muffs are available for purchase in the gun shop.
Range Clothing – Wear appropriate shooting range clothing – a baseball cap, crew neck T-shirt, long pants, and closed-toe footwear.
Additional Information:
Included in the cost of the registration fee are the student handouts, shooting range lane rental fee and targets are all provided at no additional cost.
Reciprocity:
Currently the State of Illinois CCFL is valid in 28 states and counting. The map below indicates states that honor the State of Illinois CCFL in BLUE and non-reciprocity states in RED.
Permit(s) Honored In:
Alaska, Alabama, Arkansas, Arizona, Iowa, Idaho, Illinois, Indiana, Kansas, Kentucky, Michigan, Minnesota, Missouri, Mississippi, Montana, North Carolina, Nebraska, New Hampshire, Nevada, Ohio, Oklahoma, South Dakota, Tennessee, Texas, Utah, Virginia, Vermont, and Wisconsin.
Permit(s) NOT Honored In:
California, Colorado, Connecticut, District of Columbia, Delaware, Florida, Georgia, Hawaii, Louisiana, Massachusetts, Maryland, Maine, North Dakota, New Jersey, New Mexico, New York, Oregon, Pennsylvania, Rhode Island, South Carolina, Washington, West Virginia, and Wyoming.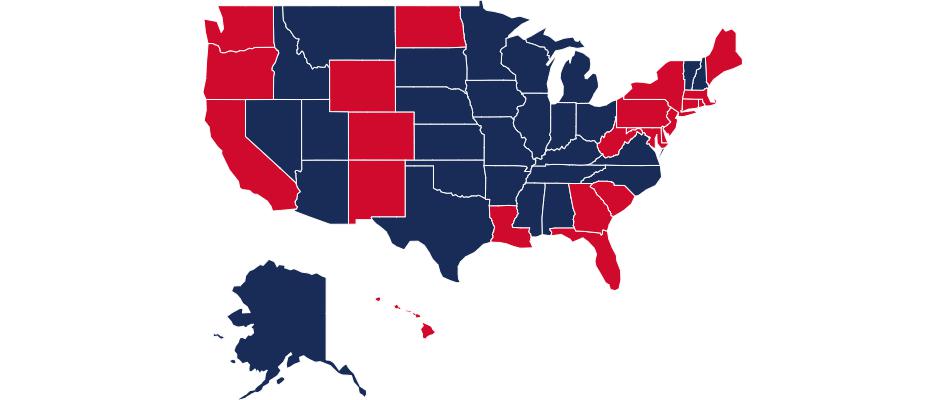 Course Goal
To teach the basic knowledge, skills and attitude necessary for owning, using and carrying a concealed handgun safely and ethically in the State of Illinois.
PREREQUISITES
All students must provide all the following items:
A valid government issued photo identification card – proof of age (≤ 21 years) and State of Illinois residency;

A valid State of Illinois FOID Card – proof of eligibility to possess firearms; and

A valid State of Illinois Concealed Carry Firearm License.
PUBLIC CLASS
Private class can be arranged for groups of 5 or more.