Course Description: 
Concealed Carry and Home Defense Fundamentals is a comprehensive course for anyone considering owning or carrying a firearm for self-defense. The course is a complete guide to understanding conflict avoidance and situational awareness; home security and home defense; handgun, shotgun and AR-15 basics; shooting fundamentals; the physiology of violent encounters; the legal aspects of using deadly force (including knowing what to do in the aftermath); and a complete guide on gear, gadgets, and ongoing training.
You will Receive
Certificate of Completion
A free paperback copy of Concealed Carry and Home Defense Fundamentals by Michael Martin (a $3o dollar value)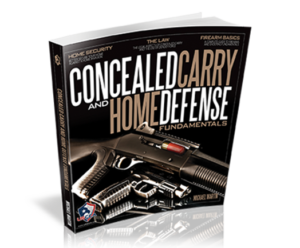 This course counts for 8 hours of training for the Illinois concealed carry license (CCL) training course offered by Davenport Guns.*
What To Bring
Handgun (Handguns are rented at the store if you do not have one)
100 rounds of ammunition
Eye and Ear Protection
Safe Range Attire (closed-toed shoes, crew-neck shirts, a ball cap or visor to deflect brass away from the eyes and face)
*This applies only to IL CCL courses taught by Davenport Guns and is not an 8 hour training credit that can be applied elsewhere.
PREREQUISITES
There are no prerequisites for this course, and firearm ownership is not required.

Lesson Topics
Lesson 1 – Developing a personal and home protection plan

Lesson 2 – Self-defense firearm basics

Lesson 3 – Shooting fundamentals

Lesson 4 – The legal use of force
Lesson 5 – Violent encounters and their aftermath

Lesson 6 – Gear and gadgets

Lesson 7 – Basic and advanced skills

PUBLIC CLASS
Private class can be arranged for groups of 5 or more.