Welcome to Davenport Guns, and thank you for considering us for your firearms and self-defense training.
Our highly trained, experienced and certified instructors are here to help you understand the laws, appreciate firearms and enjoy the many benefits of becoming a skilled shooter.  Whether you are interested in defensive shooting, competition or sports shooting, we offer a variety of programs to help you get the most out of your shooting experience.
Thanks,
Director of Training
Davenport Guns, LLC
(563)277-3227
firearms courses for Beginners
If you are brand new to shooting, have very little experience, or it has been a long time since you picked up a firearm, consider these introductory firearms safety courses. These courses vary in length and price, some may include firing of live rounds on the range, Some are classroom only.
What these classes have in common is that they are purposely built for people new shooters considering the possibility of firearms ownership. These courses cover the principles of safe gun-handling, responsible ownership, storage, and basic marksmanship techniques.
Private group courses can be scheduled for groups of 5 or more. Call (563)277-3227 or email dpierson@davenportguns.com
Understanding the law
    Our Iowa and Illinois concealed carry permit coursework includes gun law, and use of force law information for the corresponding state. These courses are designed to meet and exceed the training requirement for a state concealed carry permit, and cover many different topics.  Even if you do not intend on regularly carrying a weapon, these courses are a phenomenal source of knowledge and an asset to your shooting foundation. 
If you want more detailed and robust training on state specific legal use of force concepts, check out these seminars.
Knowing the law is one thing.  Applying what you know in ambiguous circumstances, with unclear goals, under compressed time frames is something else entirely. Decision-making under pressure is not easy, and is a skill that can be built like any other. Image Based Decisional Drills (IBDD) is a method of training that can give you the foundation of experience you need to make the right decision quickly. You'll respond to visual stimuli, make a rapid decision, and ACT, then discuss the pros and cons of your actions, including the legality of your decision.
While this course does include legal use of force concepts, it is not a use of force class,  a shooting class or a tactics class.  It is a decision-making class.  Check out our IBDD class here:
Want to carry your gun?
If you want to carry a gun in public, we offer concealed carry permit courses for Illinois and Iowa.
These courses meet and exceed the training standards to apply for a concealed carry license in their respective states. Make sure to check out the "Armed Self-defense" section of this guide for courses that will help you build the skills you need to protect yourself on the street.
Private group courses can be scheduled for groups of 5 or more. Call (563)277-3227 or email dpierson@davenportguns.com
Skills beyond the gun
Self-defense is a more than just owning a gun and knowing how to use it. We offer several courses that teach alternative methods of self- defense. 
Every state has prohibited areas where firearms cannot be lawfully carried. Many employers ban the carrying or posession of firearms. Developing skills non-lethal tools, and emergency first aid are just as important.
While primarily a course on decision-making, the Image Based Decisional Drills course provides  hands-on experience with water-only inert training OC spray (pepper spray) and knowledge on how and when to use it.
Our defensive knife course with instructor Shane Hoadley is a customer favorite.
Emergency first aid skills are a critical skills for people interested in personal protection.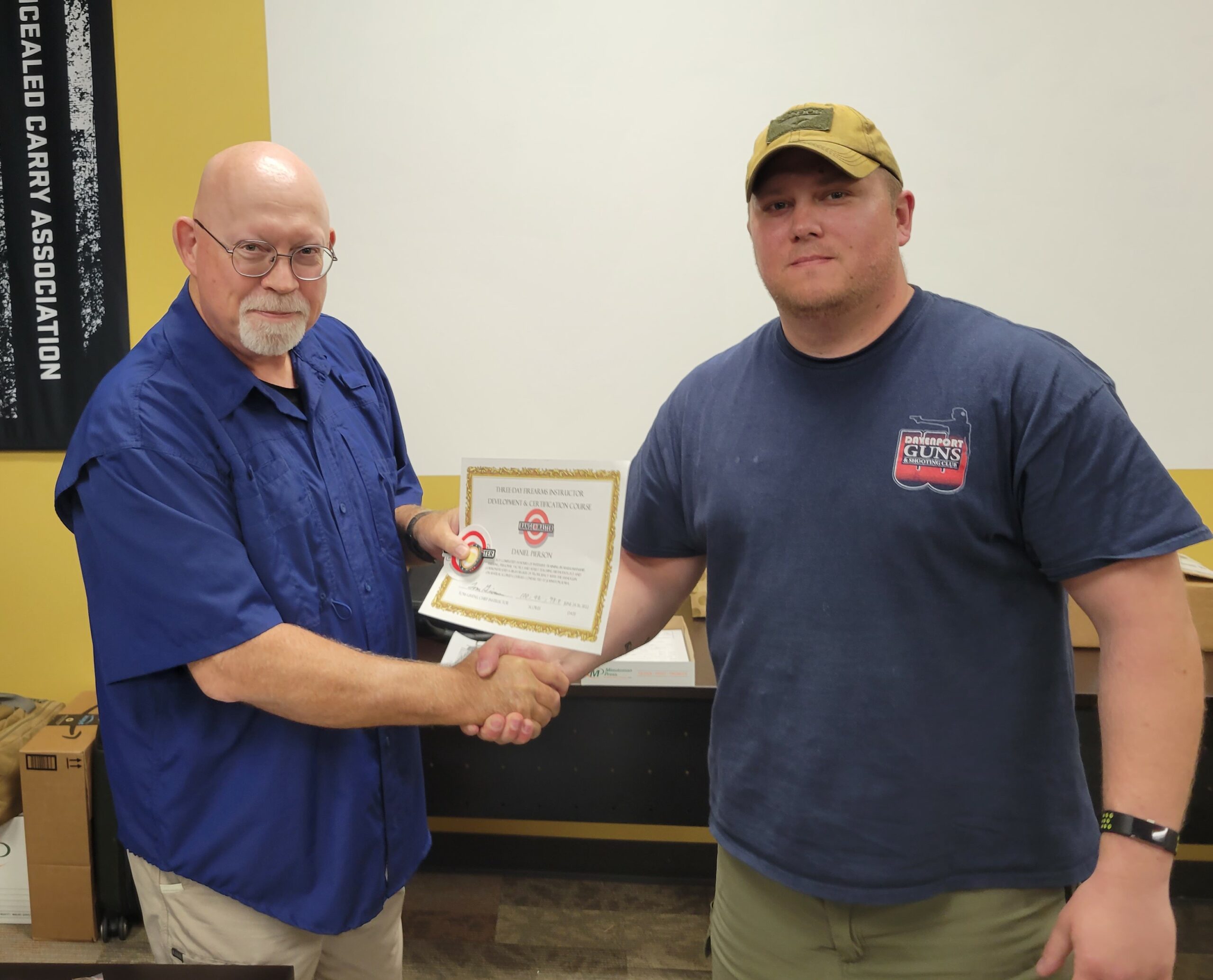 Tom Givens (left) presenting the Rangemaster instructor certification course certificate t0 Daniel Pierson (right)